It has been 2 years since I first shared my Notion Recipe Manager. (check it out here)
And, ever since Notion has changed a lot and so did my template!
In this post, I'll show you the updates I've implemented. So, you can either do it yourself or get it at the end of the Post.

Navigating the Recipe Manager
I needed a better & quicker way to navigate through all the recipes. So, I implemented my favourite way of navigating Notion, which is a side menu using Synced block. This way, getting around became so much easier and the template feels more like a more solid application.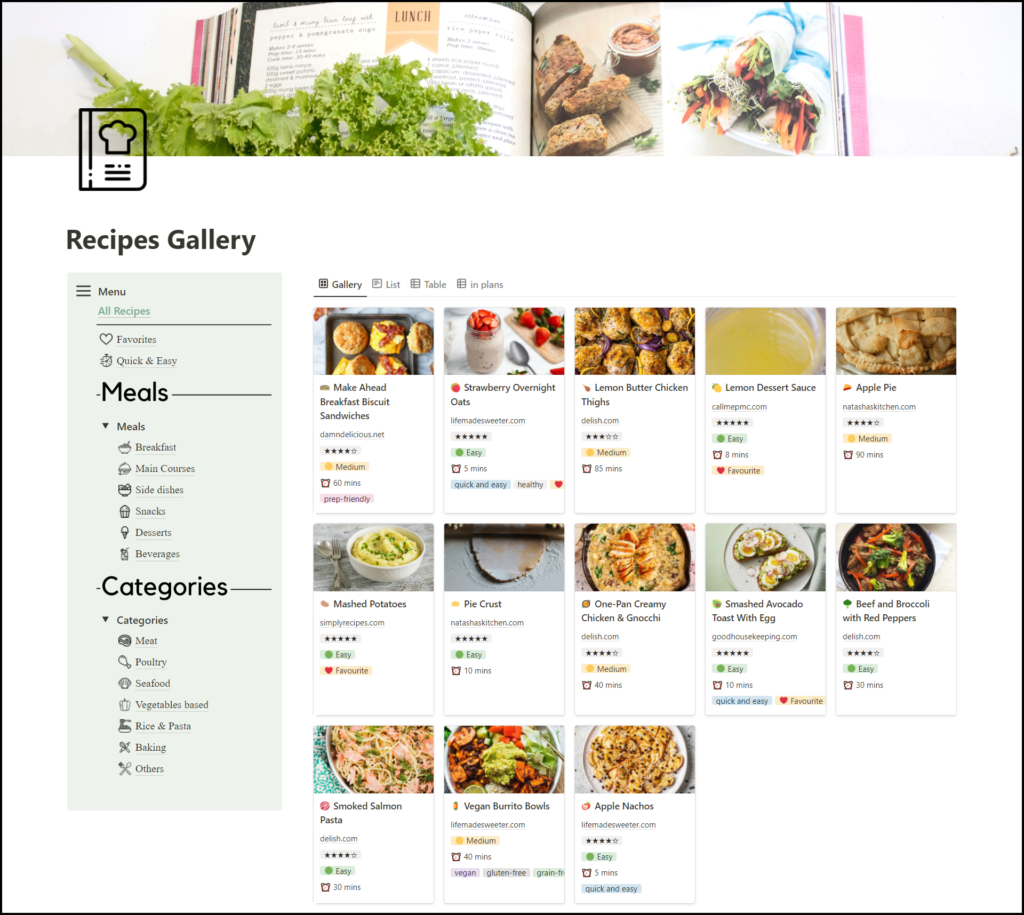 The (New Recipe Template)
The template I use to create a new recipe got a new simplified, less cluttered look. I removed the sections I found I don't use and made use of Notion's new table to add Nutrition.
The Food database
I did not waste time entering food records each time I add a new recipe. So, I pre-filled this database with over 300 food items. I also added icons to all of them to make them look nicer and added how many calories are there per 100 grams and per Oz. It also got a navigation menu so, It's easier to add new items or edit the existing ones.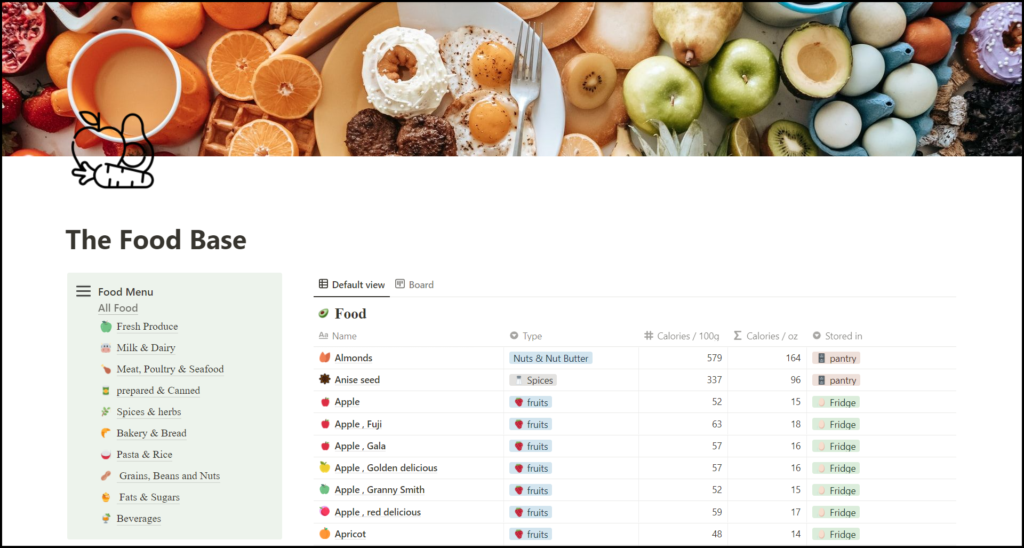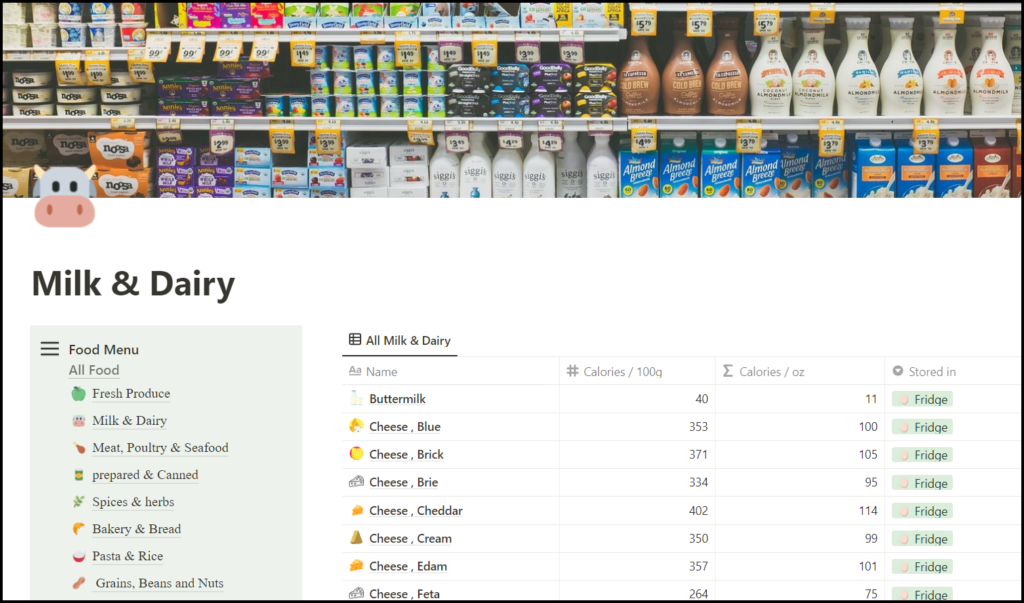 The Meal Planner
The purpose of the meal planner is to help you save time during the week by planning ahead what you're gonna eat. I can't stress enough how this has helped my husband and me have zero stress about cooking, and the annoying daily question "What's for dinner ?!". You don't necessarily need to plan all the meals for all the days, but I find planning dinner is the most important since it requires most of the shopping and cooking.
The meal planner has 2 main moods (the planner & the menu).
The Planner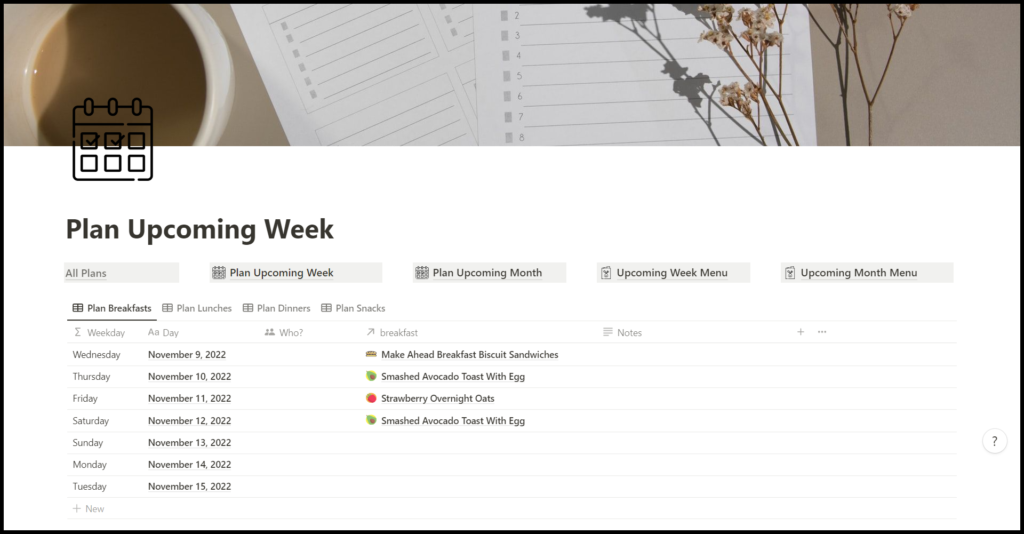 This is my favourite and most used part of the template!
It's basically a database with a record for each day (and it's already pre-filled till 2025).
You can either choose to plan the upcoming week or month, which I prefer.
To help you plan effectively, try new things and not get stuck with the same recipes each week there are 3 views attached to the planner
Forgotten Recipes view: contains recipes that haven't been in any plan for over a month.
All Recipes view: contains all your recipes. use this view to search and filter recipes for inspiration.
The Menus
Here you can view your entirely planned week or month menu. You can also take a screenshot, print it and put it on your fridge if it makes it easier for you.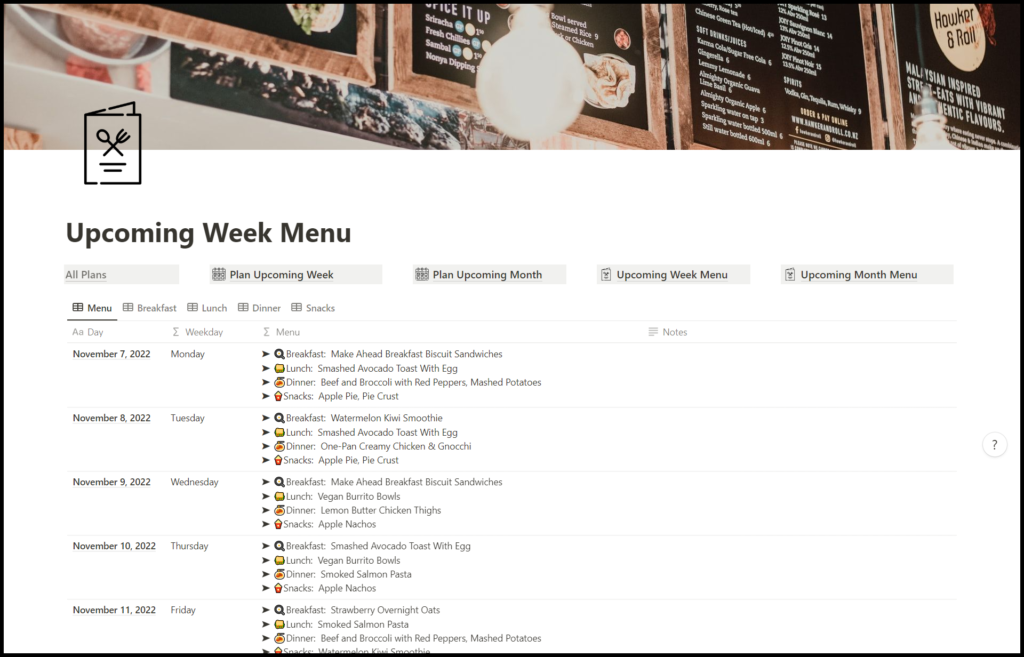 The prep Hub
This is an update of the meals section in version one. It generates a shopping list of all the ingredients of recipes I have planned and it can also calculate the calories in each meal (If the amounts of ingredients are entered by weight units).
Getting The template
If you have paid anything for the older version, before publishing this post, email me at contact@shorouk.dev with the same email you used in your purchase and I'll give this version away to you for free!

Or, you can get it either on Gumroad or Etsy.
You can of course try the free version first!

Happy Notioning, and Cooking!