Looking back at my happy memories, especially in times like this with the Corona-virus lockdown, is one of the greatest mode changers, that can bring me instant gratification. and, just put a smile on my face.
To have all your memories tucked down on your phone or PC doesn't really help. Watching your videos on your Tv, however, is much more amusing.
In this post, I'll show you how to set up your home movie library to look as shiny as possible! So, you can view it on your TV and just enjoy rewatching it.
Before we start…
To display your library on TV, You need one that can run Plex. If you have an Android TV, an Android TV box, or a smart TV that has the Plex app then that's awesome keep going. If you have an older TV. you still can run Plex on your web browser, PC, mobile, or tablet.
So, what is Plex?
If you don't already know, Plex is both a media server and a player that by using them together, you can stream your media (from your server) to any of your players. Your server is the PC that has all your media collections. and, the player could be anything from your web browser, your mobile, tablet, smart TV, or even a game console. You can share your library with anyone too. And, if you have movies and TV series in your collection, Plex will automatically grab all the metadata for you.
This post, however, will only focus on organizing personal Home Movies. Assuming, you have all your videos in a folder in the PC that you intend to use as your server.
Setting up your library
First of all, you will need to follow the instructions here to download and install Plex. Once you have it installed, start by creating your first library. Detailed instructions can be found here. Just remember, when choosing your library type to select "Other Videos". And, for the folders select all the folders that have your home movies.
Plex will then start importing all the videos in that folder. Here's how my collection looks like before doing any organizing.
Organizing the library
That doesn't look good at all. So, we need to start organizing right away!
What I did was, I divided my library into collections.
So, all the videos of my husband trying to cook (and mostly failing 😂) go to the cooking collection, all the birthdays' videos go to the birthdays' collection, and so on. Alongside the major collections, like (Trips, Birthdays, Weddings, etc..) I created other collections for special events. Like my Wedding for example. I didn't want it to be lost with the other weddings' videos. So, I created a special collection for it. You can do so with any special memory or trip or event. It's totally up to you! You can also add one video to multiple collections. So, that gives you nice flexibility.
Creating your collections
Start by writing down the names of the collections you want to create. Here are some of the popular categories that your videos could fall into.
Trips
Family
Friends
Birthdays
Weddings
Anniversaries
Holidays
Fun
Cooking
Pets
Now, we're going to go over each video and assign it to a collection or more. To do so, select one or multiple videos and click the edit button on the top right corner of the screen.
Move to the Tags tab. Under collection, write the name of the collection or collections you want to add the video into. Since this is your first collection, you will click "Add collection name".
If you refresh your page now, You will notice that your library has a new tab called "Collections". If you click it, You will see your newly created collection.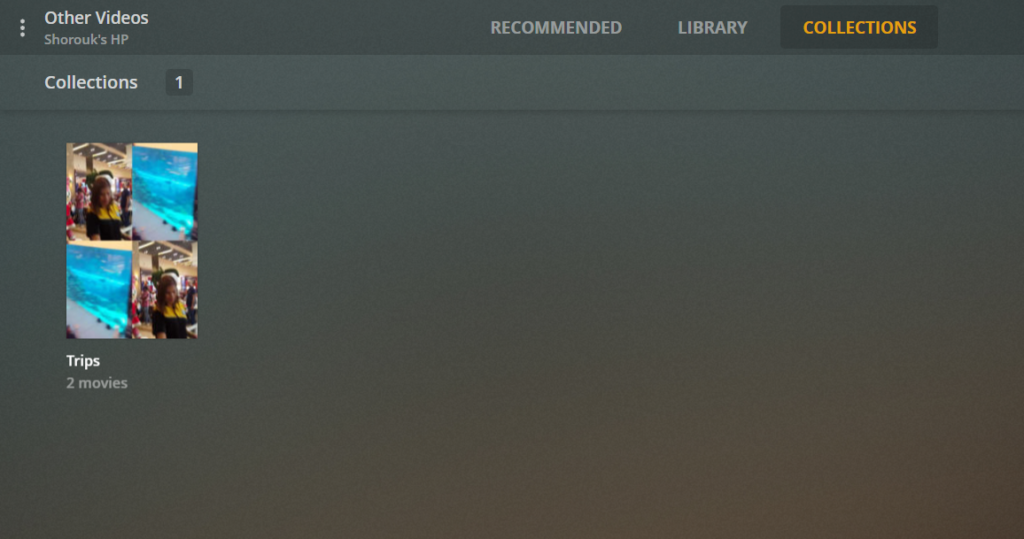 Because I am organizing this library for the first time, I don't want the videos that are already in a collection to appear under the library tab. So, I'm going to change the library setting. By clicking the three dots next to the library name. Then, "Manage Library". Then, "Edit"
After that, select the "Advanced" tab and under "Collections". And, select "Hide items which are in Collections".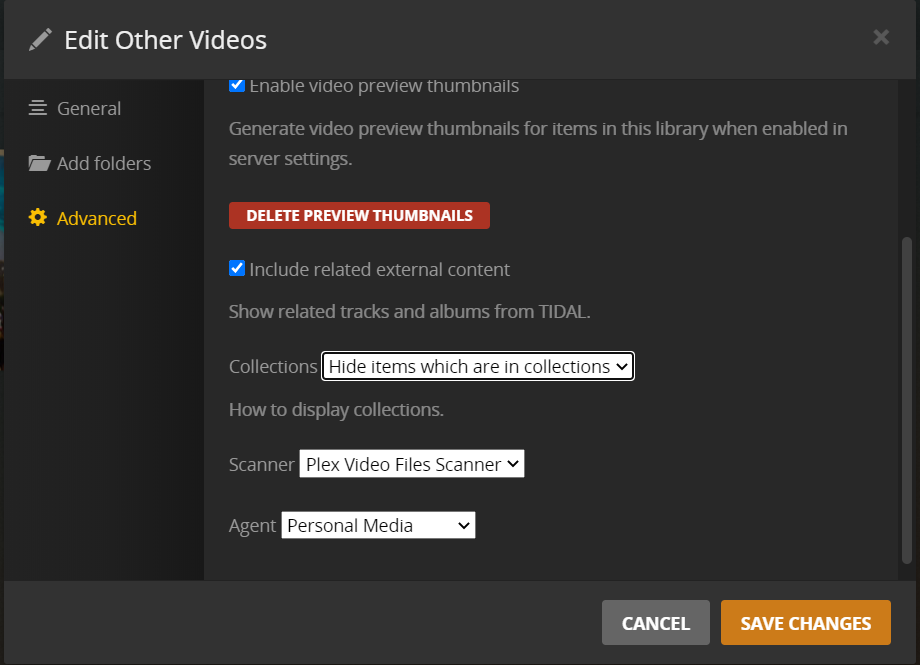 Now, go back to the library and add all the videos there to their suitable collections. Stop once all you can see under the library tab is only the collections you created.
Sorting the collections
You might want to sort your collections in a different order than the default one, which is alphabetical. To do so, give your Collections "Sorting Titles".
Click on a collection to edit it and edit the "Sorting Title".
So, if you want, for example, your "Z" collection to be displayed before your "A" collection, Give your "Z" collection a sorting title of "01 Z". And, the other one a"02 A". That way, you will have the "Z" collection before the "A" collection.
Adding posters to your collections and clips
This is where all the fun happens. And, where your library starts to really shine! To create stunning posters for your movies, without using any complicated software. or, even having much experience in graphic design. You can use Visme. It's a super easy to use tool. And it comes with hundreds of templates that you can tweak to create your own posters in no time!.
Here are some of my posters that I designed with Visme. which, you can reuse. But, I highly recommend you design your own posters with your own pictures to make your library special.
Now, that you have designed your posters, you gotta add them to your collections.
Click on the collection to edit it. And, under the "Poster tab" click "choose an image" to add your design. And, save the changes.
Inside the collection
You should now have beautifully looking collections with posters and sorted the way you want. You can stop here. But, I prefer to dive into each collection, add posters to the videos inside it, give them meaningful names and sort them the way I like too.
Editing the individual videos might seem like a daunting and time-consuming task. but, it's totally worth it and it's something you can do to make use of your free time. I didn't do it on one day. But, whenever was bored or had some free time on my hand I'd just start beautifying my collections.
Here's a look at my wedding collection.